Littlehampton Jet Ski Club receives the Mic Randle Award for Safety
20th August 2022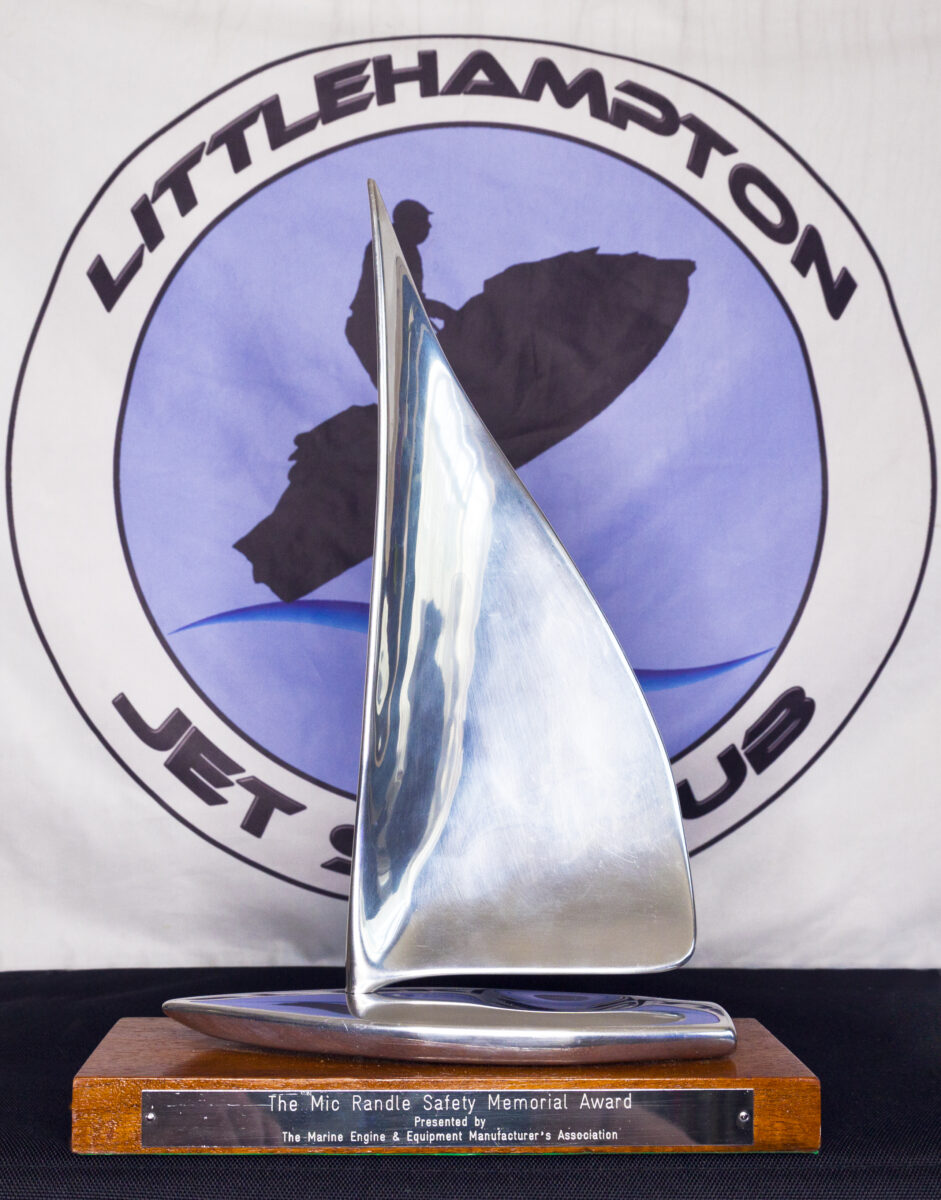 We are very happy to announce that Littlehampton Jet Ski Club has been awarded the Mic Randle Award for Safety, presented last Sunday during the Littlehampton Harbour Waterfront Festival 2022.
Andrew Norton from Personal Watercraft Partnership (PWP) said:  "Mic Randle was one of the first, if not the first, to promote safe and responsible PWC use through training in the 80's and 90's. Following his sad death in 2003, his wife donated an award to PWP for us to present as they saw fit. 
We do not award it every year, or lightly, and when we do, it's only to individuals/organisations that have done a great deal to help the sport and uphold or support the values of PWP. The award is only given for very good reason. To date, the award has been presented to individuals within businesses or Councils and, in 2007, to the Solent Skiers Association.
In recent years, a new contender for the award has emerged and, following several nominations, we're delighted to announce that in 2022, we've decided to present the award to Littlehampton Jet Ski Club."
Andrew continues: "At the heart of all of this are the core values: Safety, training and fun. Our sport only works in all locations with an equal mix of these and it's because of LJSCs absolute determination to maintain and uphold these standards in every aspect of what they do, that we choose to present them with the Mic Randle Award. It's a huge congratulations and thanks from us – and from all in the PWC community."
 Founded in 2019 by Chris Headon, Andy Lee and Chris Cordery, working closely with PWP and Littlehampton Harbour Board Littlehampton Jet Ski Club (LJSC) was formed to stop PWC's from being banned within Littlehampton Harbour limits following a huge increase in complaints regarding jet skis.
 It was agreed that all PWC users in the harbour had to attend a briefing from the Harbour Master on local information and restrictions – following this briefing and upon inspection of a valid RYA PW licence and insurance documents, a Harbour permit is issued. That must be on hand for inspection at any time by the Harbour master.
 During the early part of 2021 Richard Howlett from Littlehampton Yacht Club stepped up and offered space for a club house and access to the water via their slipway, offered reduced yearly membership of LYC to club members and also invested in a new Jet Ski storage compound.
 The next step is for LYC and LJSC to become an RYA training centre where courses for PWCs, PB 1&2 and VHF training can be given.
 With everything in place now and LJSC in its fourth year, relationships with other harbour/river users, yacht clubs and organisations has grown in a very positive way and incidents of wrong-doings from PWC users has dropped dramatically – though of course there is still the odd one or two that flout the harbour rules – but these are dealt with firmly by both LHB and LJSC by way of heavy fines and harbour permits and club membership being revoked.
The club now has more than 400 active members on its Facebook Group – the youngest just 13 years old – several highly-active WhatsApp groups and dozens of organised trips each year which see groups staying local for wave jumping, travelling down the coast to Brighton and Eastbourne, heading to Isle of Wight for lunch or dinner, and then there's the long trips – the longest to date in 2021 – a one-day, 240 mile round trip from Littlehampton to Torquay – not one for the feint-hearted!!!
Then there are the away trips: Croatia for 7 days just a couple of months ago, Dover to Calais a few weeks back and the Anglesey loop coming up… and plans for many more.
Chris Headon is a lifelong water sport guy, ex RNLI lifeboat crew, PWP ambassador and RYA instructor: He is constantly promoting safe, responsible and fun use of all watercraft. Chris said: "I'm honoured to accept this on behalf of club admins and members. It's a credit to everyone who comes along, joins and is happy to play by the rules. I'd like to say a huge thanks to PWP for awarding this to us but also want to say thank you to all those involved getting the club up and running, including PWP, Littlehampton Harbour Board, Littlehampton Yacht Club and to all our club sponsors for their ongoing support."
Of course, with this much going on, while Chris is the leading figure at the club, he's still supported by Andy and a team of now nine other club admins to keep it going: This award is for them…and all the members.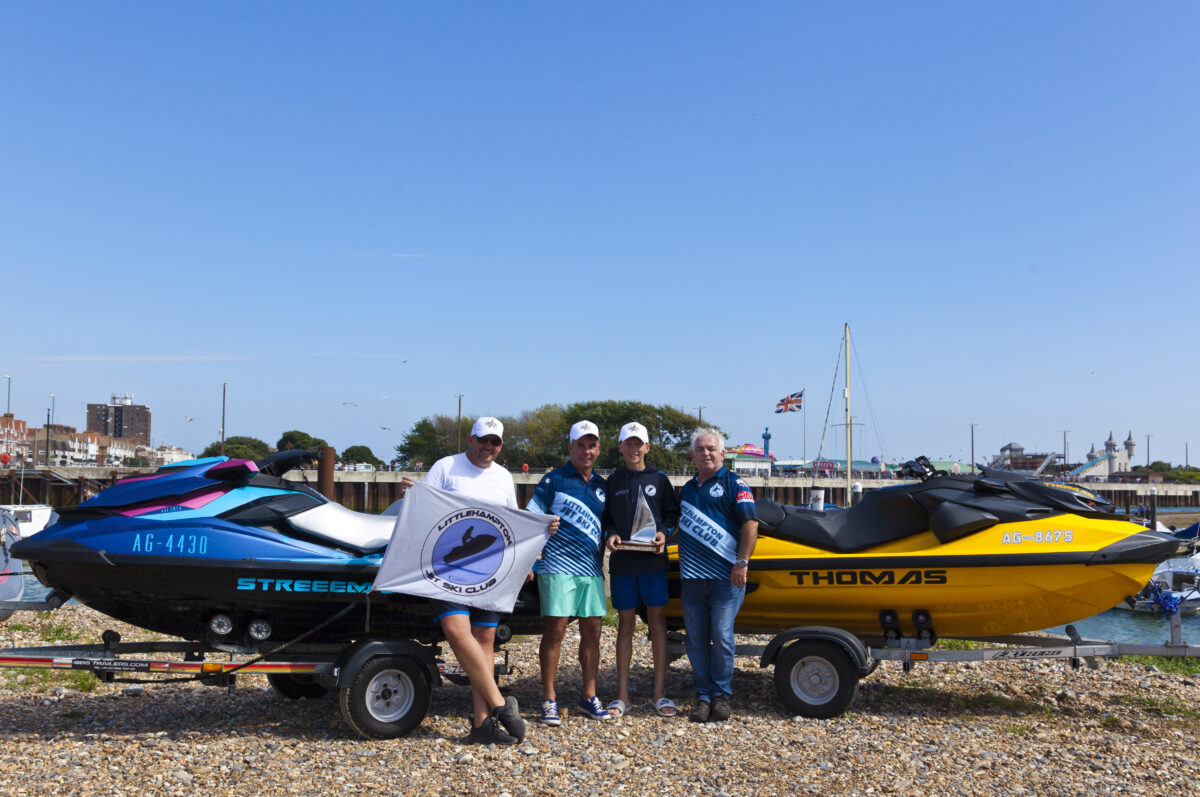 Pictured: Chris Headon – Club Founder, Andy Lee – Club Founder, Dominic Compagnone – Newest Club Admin, Emilio Compagnone – Clubs Youngest Fully Qualified member.